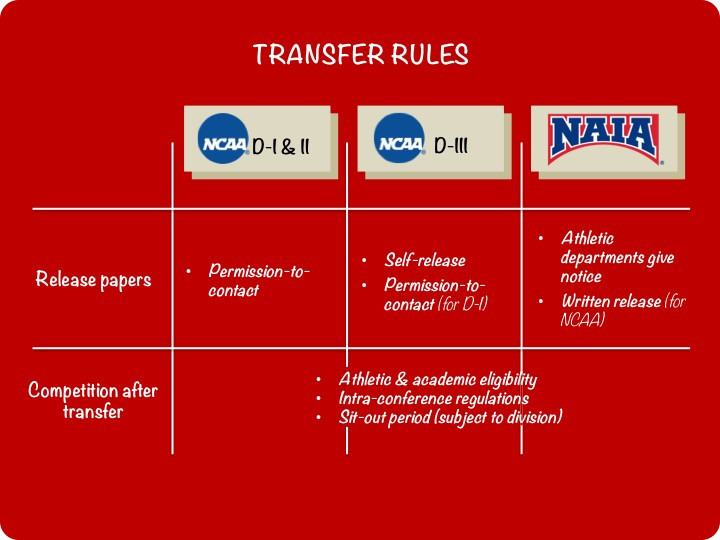 Transfers May Not Have to be Sidelined Much Longer
Earlier this week, it was announced that the NCAA was making serious strides towards allowing transfers to be eligible to play for their new programs immediately. This is obviously still a rough idea that comes with many stipulations, but I, for  one, still love it. Let's be honest, we are not exactly at a point in professional sports where team loyalty is at an all time high, especially for basketball. The move perfectly coincides with the nature of the game today, and whether you like it or not, it will give us more headlines and more stories to talk about.
This is a move that makes coaches across the country cringe, but the reality is that every player's goal is to play at the highest level possible. For some it's the NBA. Others are just trying to compete at the highest collegiate level they can before attempting an overseas career or leaving the game behind. In order to do so, transfers must happen sometimes.
NCAA athletes transferring is not necessarily a common practice for big time players, however a development like this may make it so. Let's look at someone like Michael Porter for a second. Everyone knows Michael Porter deserves to play for a team far better than a below average SEC team. However, what if at the end of the season, Porter is faced with the option of choosing between the NBA, or another solid NCAA program like Duke or Kentucky?  This would allow the number one recruit to actually compete for something meaningful at the collegiate level instead of just counting down the days until he can hear the Brooklyn Nets or some other abysmal pro team call his name on draft day.
Porter is an NBA ready talent right now. He will not pass up the NBA to play another year in college, but that doesn't apply to all five-star recruits. Malik Newman is another example of this. Only time will tell if Newman's decision to transfer to Kansas, over going pro, benefited his career or not. If a professional athlete can rejuvenate his career with a new team, why can't the same theory apply to a collegiate player?
This is the closest thing that the NCAA will ever develop to free agency, and where there are free agents, there is drama. With drama comes attention and attention brings interest. The transfer rate in the NCAA is out of control, but some players truly do need a change of scenery to help them reach their highest playing potential. This new development would undoubtedly create more buzz around college hoops, so if you're a fan of the NCAA, you should be a fan of this idea.