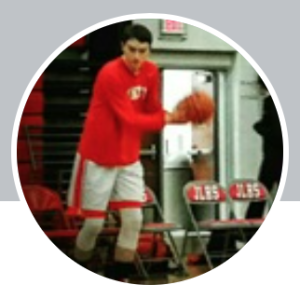 Recently I had the pleasure of sitting with FDU assistant Coach Bruce Hamburger. He was watching Rumson's star Brendan Barry play. Barry is a very talented player with real scoring gifts. He is currently being recruiting by a numbers of Division one schools. While watching the game a fan came up to me and asked a very interesting question. How come the shore has so many Division 1 girls and so few D1 boys. I told him it was a very simple answer. The girls have a hidden advantage.
Recently a 6'5″ young man showed up to the Hoop Group Saturday Core Skills program. He is a freshman in high school .When I saw him I smiled because core skills is 7th and 8th grade boys and girls. But this young man could care less. He worked as if the kids in the gym were D1 superstars. He gave a full effort the entire time he was there. That made me smile even  more. This scene is very common with the girls in the shore. They take advantage of getting in the gym with quality coaching any chance they can get. It's the reason the girls shore basketball is the best in the country. They have a real passion for the game. This is why I am so excited for Daniel Sofield, because he is a young man who gets it.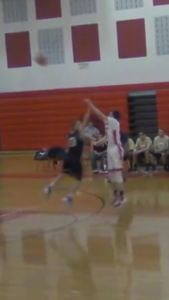 I first met Daniel Sofield in the fall and he caught my attention right away. It was not because of his size and athleticism. Many people forget I was a Division one coach for 25 years. I was  blessed to have coached a number of talented players who have gone on to play in the NBA. These players all had one thing in common; a work ethic that never gave into excuses. I believe Daniel Sofield's work ethic falls right into that category. I have seen few boys in the Shore with this type of work ethic. His attitude and energy level are off the charts….I guess you can call it passion.  I was not surprised to hear this young man as a freshman averaged 14 points a game this year at the varsity level. My guess is that he is going to break a lot of records before his playing days are over.
Now when I watch my girls play, I always check the end of the season. You see that tells you whether a player got better during the season. So I asked his AAU Coach, Eric Kessler, how did Daniel play towards the end of the season. The answer did not surprise me. He averaged over 20 points a game over the final 5 games of the season with a season high of 27 one of those nights. Folks this is what good players do, they get better towards the end of the season. Why? They have a big appetite  for improvement.
Now it's easy for girls in the Shore to find role models. There are D1 players all over the place. A kid can see D1 players all through grammar school and know what a D1 player look like and works like. The boys in the Shore don't have that advantage, this year for example there are only two D1 male players in the Shore. So if a kid hopes to play at the highest level, they better have a monster work ethic because not only will they not get to train against D1 players everyday, but they don't have that role model to show them the way.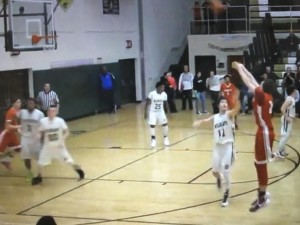 The typical girl in the Shore Conference will start playing with and against D1 players around 6th grade.  For example Justine Pissott, a 6th grader, has already played and trained with D1 players for 2 years. Two of the best 7th graders in the state, Jasmine Boyd and Sophia, have trained with D1 girls all fall and spring. It is a huge advantage in development and work ethic. Kayla Richardson will have seen and played against every top player in New Jersey before she starts her freshman year at Middletown South next year.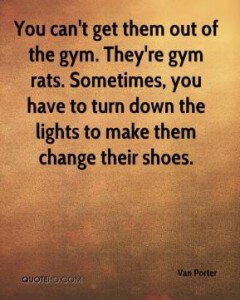 Daniel Sofield may hold the hopes for the boys side of the Shore, in terms of young players seeing talented players, before they get to high school. He could be the guy who flips the entire game for young boys in the shore.  Sofield never passes up a chance to get in the gym. It seems that he wants to fill his head up with knowledge about the game. When he showed up for point guard school, I asked why was he there. It was kids in grades 2-8 at the training session. He looked at me dead serious and said " I just want to get a little work in before I shoot." Folks the girls in the Shore all do this…at least the good ones…. ALL THE TIME. I have rarely seen kids on the boys side do this…I was very impressed. Sofield is changing up the game folks.
I want to tell you a story about Daniel Sofield and I hope that college coaches one day will print this for other kids…not after Daniel becomes a household name, which he is sure to become. It's clear he will play D1, you don't have to be a rocket scientist to know this.  I brought Elijah Allen down to my Boot Camp pre- season workout. Now let me say this, nobody on planet earth teaches the art of ball handling like  Elijah Allen…NOBODY, AND I'M TALKING AT ANY LEVEL. Elijah teaches real game, next level stuff. During the workout, Elijah Allen came up to me and said, "Tiny that kid don't belong here." I looked at "E"  puzzled. I said, "what?".  Then Elijah Allen who scored 43 points in the NCAA tournament against UConn said this, "You know the boys down here don't really ball and work like him." It was then I was told Daniel Sofield would be attending Jackson Liberty. I grabbed him, NOT EVER EXPECTING TO SEE HIM AGAIN. I told him, be different than most of these cats in the shore. I told him he had size, athleticism, quickness and a serious work ethic.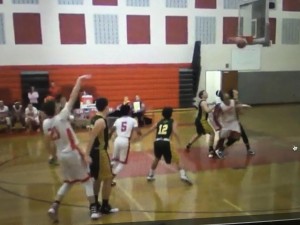 That same day I met Daniel's dad, and then I understood. His old man is no joke. He believes in hard work and not messing around with his time. You can tell he is about the business of pushing his kids. He has one son who is a baseball player at NJIT. He told me Daniel was a baseball player too. I told him baseball was my first love. We talked baseball and life and right away, I knew why I liked this kid. You see this kid has somebody who taught him about working and not falling in line. That my friends, is easier said than done….this kid I believe is going to be different than most.
Now the question that was asked, why are there not many D1 boys? Because kids like Daniel are not the norm on the boys side yet. But his AAU team, Shore Shots Kessler has a minimum of 5 future D1 players. It's this type of environment along with his work ethic that will allow him to grow as a player. I believe this kid has a chance to play at the highest level. I have not seen all the best players in the shore, but my guess is there are few with his raw ability. I doubt any have his work ethic. So it comes down to his dreams and staying on point. What I like, is now all these young boys in the shore, may one day have their Kelly Campbell and Marina Mabrey. Daniel can start a revolution in boys basketball in the shore. I personally am happy to see such a kid, because there is no reason shore boys can't become what the girls are….they have to start somewhere and DANIEL IS THE RIGHT PLACE TO START!