There is one thing I am 100% confidence in saying. I have never been around a player with more passion and love for the game of basketball than Kelly Campbell….NOBODY. I have never known a player with the desire and commitment to excellence like Kelly Campbell. There are many reasons why kids start playing basketball. Some do it for attention, some do it for praise, some do it for awards. In  the case of Kelly Campbell there was one reason….LOVE.
Kelly Campbell and Gillian Black…we see each other Saturday
I've  known Kelly Campbell since she was in 5th grade, but seeing her today sometimes shocks me. She has grown so much and not just as a basketball player. She is a young lady these days. My jokes about boys having a crush on her seem silly now. Its hard for me to see her as anything other than the gym rat, who wanted to master any drill you showed her. She wanted nothing more than to please her coach. Gone is the skinny body and braces from years gone by. The body is  now a live wire and the face is chiseled with confidence. Kelly Campbell has come full circle.
KELLY CAMPBELL IS ON THE SHORE MT. RUSHMORE
Kelly Campbell has been blessed with with a not just a work ethic for the ages, she also was blessed with raw talent and a ferocious  appetite for improvement to go along with the most competitive nature I have ever seen. These qualities make her one of the 4 most dangerous packages, I have have ever seen  in my years covering shore basketball. She is on my Mount Rushmore of the shore best ever. The work ethic combined with her team and personal  success puts her rare company. She has a Micheal Jordan quality of always wanting to win and be the best. It's a quality that only the All Time Greats have. It can also paint a picture that some do not understand. It can lead to jealousy and even hurt. Kelly Campbell I believe knows what this feels like. She has known since a early age, all eyes where on her and the expectations were bigger. She understands that every night, she is  the mesasuring stick for all others.. Kelly Campbell knows her postion in the basketball world is not always easy.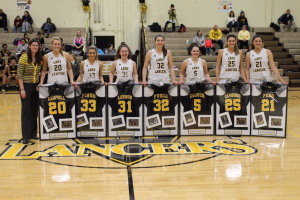 THE SJV SENIORS GET ONE LAST SCT DANCE ON SATURDAY
This year Kelly Campbell missed the  first month of season recovering from from an injury. This had to be toughest time of her life. Kelly Campbell loves basketball and not being able to play had to painful. There is no doubt she missed the competition, the practices and the excitment of getting better. She no doubt missed her senior teammates, they have been a journey for  4 years. You see for some kids it's pure joy shooting a basketball and I can  tell you this for a fact. I HAVE NEVER KNOWN A KID WHO HAS EVER PLAYED THE GAME OUT OF PURE LOVE MORE THAN….Kelly Campbell.
Campbell returned to the SJV lineup in January. She has proved that she is on a different level than everyone. Her ability to control the chess match that takes place in a game is Bobby Fisher like. Her ability to play the speed game is Jeff Gordon on a race track. Fast but never out of control. Her ability to control pace is like watching a great conductor She knows when to slow the music and when to speed it up. She knows when it's time for a solo and when to let the orchestra join in..  Her teammates feed off her confidence in tight games. They know that she will make the right play and never crack.
Saturday Kelly Campbell will try and cap off one of the best careers in Shore history. She will have played against the very best high school competition in the country. She will have done this with a target on her back every step of the way. Many believe if Kelly Campbell did not get injured, SJV just might be the #1 team in the country. Instead Saturday Kelly Campbell will go for the one title that has escaped she and her Coach, Dawn Karpell. …The SCT title, she knows without this title, she and her teammates can't be called one of the best ever.
When you say the  best anything, there is always a debate. But make no mistake when it comes to work ethic, foucus, commitment and energy, Kelly Campbell has no peers. She has been this way since she was a little girl. Kelly never cheated on a drill, she never made an excuse, she was the first in the gym and last to leave and do you know why? SHE LOVES THE GAME. The scholarship to nationally ranked DePaul is just a bonus. Becaue Kelly Campbell would play basketball on the moon if they let her.
Relationships are why you play sports. It's reason you show up everyday. It's the reason you smile or cry. It's the reason care so much. These relationships sometimes lose there way. But when there is REAL respect and admiration, relationships come full circle. Kelly Campbell and me have not always seen eye to eye. But there is on thing I think we both can agree on. Kelly Campbell never cheated me once when in the gym. She always gave me the goods. She took the heated criticism and the angry rants and more importantly never quit or looked for a easy way, out.  She is a role model for every kid with a real passion for our game….Kelly Campbell has risen above EVERYTHING THROW AT HER….
A TIME TO REJOICE AND SMELL THE ROSES TOGETHER!
Somebody asked me is Kelly Campbell one of the best ever. That' a rather silly question, the real question  is will her team be remembered as one of the best ever. Saturday a young lady…not a kid, will walk on the Monmouth University court. I hope every little girl who loves basketball, looks into her eyes. If they do,  I promise they will see a fire burning like they have never seen in their life. They will see pure focus and determination.  I promise you will see what love for a game really looks like. You will is what passion really looks like. You will see GREATNESS EARNED… NOT GIVEN. You will see talent not hype. You will most certainly see pure JOY….Do your know why? Becuase nobody has made move sacfices along the way than Kelly Campbell. Saturday, win or lose, Kelly Campbell the Door Slammer Hall of Famer … Will SLAM THE DOOR ON ONE OF THE GREATEST SHORE CAREERS…EVER!
UPDATE

KELLY CAMPBELL(DEPAUL) NICOLE MORRIS (HOLY CROSS)…5 YEARS AGO…TIME FLYS FOLKS..
CORE SKILLS TRAINING SATURDAY …THEN OFF TO THE GAMES…SPOTS ARE STILL OPEN….