Next week the NOTHING BUT SKILLS CAMP ( http://hoopgroup.com/headquarters/summer-basketball-camps/nothing-but-skills/)  will take place in Neptune. It will be a week for some very talented players to get in the gym, tighten up some skill sets and stay sharp for the remaining July recruiting period. It is also a measuring stick for so many boys and girls. No question it is a week for a young person to create a buzz for themselves and build a reputation. Because the truth be told, if a player stands out at NBS there is no question they are on their way to great things down the road. It also is a place for a young man or lady to show they have improved and stepped up their game.  NBS is a place where dreams are made and a place where an ego or reputation doesn't help a player…EVERYONE IS JUDGED BY WORK ETHIC AND PERFORMANCE.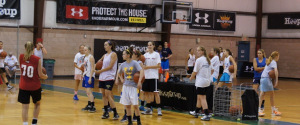 In the past 15 years almost every year, somebody steps out of the shadows at NBS and starts on that journey to success. Tori Hyduke became the first freshman to win MVP of the week. I will tell you the NBS camp has had 100's of D1 players over the years attend the camp. Hyduke winning MVP really had more to do with her work ethic THAN ANYTHING ELSE . She stayed for an hour after camp, shooting before attending her High School practice. Many kids in her age group decided to attend NBS a half day (no longer allowed) in order to save there legs for high school practice. For Hyduke getting better was the objective and proving she was the best player in the building was more important. What she didn't know was that she separated herself from everyone else and created reputation as a hard worker who is has zero interest in politics  (and I make sure every college coach I speak to knows this)..think colleges coaches like that? It was real tribute to her work ethic, talent and belief in herself. But Hyduke was not a unknown when she attended NBS, she simply was a kid who was not concerned with putting her rep on the line…IT PAID OFF FOR HER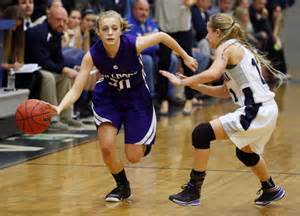 Only Freshman ever to win MVP at NBS
It's that player who shows up out of no where like a Tori Pozsonyi (Colgate) that shocks me. Pozsonyi was a total unknown when she attend the NBS camp and did battle with Danielle Padovano (Fordham) and Sam Sullivan (Wagner). She showed she could play with D1 players, it was a true launching pad for the young lady. She went from unknown to heavily recruited…she currently is a freshman at Colgate. But what I really like is when a player who everyone knows, shows up at NBS and out plays so called star players. This is the case almost every year, a known player finally getting credit for preforming. Nobody saw Desiree Allen of Neptune exploding on the seen last ...except the coaches and players at NBS .its no surprise she just may be the best senior wing player in the shore and dare I say the state? She is one of the most competitive kids I know. NBS can also be a wake up call for some players. Some players realize they are falling behind and them step it up. Some also know they are falling behind and go into hiding… is a double edge sword.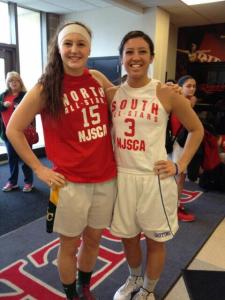 Tori Pozsonyi (Colgate) and Dana Carbone (Monmouth)
NBS camp is all about competitive drills, its a camp where one on one is a heavy part of the daily schedule. While NBS does not play 5 on 5 during the year. There are two twenty minutes halves of 5 on 5 lively competitive games during the summer camp. With many kids needing to stay Sharpe for July, its only right to let the kids play. It's also a chance for a kid who may not have top notch skill sets to show other parts of their game. 
One of the things I like most about NBS is everyone is treated the same. There are no superstars and NOBODY GETS A PASS AND WE DON'T CARE WHO YOU ARE...this has in the past chased many kids away from NBS. Trust me I have heard almost every excuse known to man why kids have skipped or played poorly at NBS. Players are expected to preform and also be able to take the heat of criticism. A players ego can easily be hurt when players are broken into groups. Everyone is judged by ability, performance and nothing else. Rather than face the issue of being put in a group that is not considered one of the best; some kids prefer not to attend rather than work their way up during the week. It part of the charm of NBS.. a player not being thought of highly moving up the ladder though the week….I LOVE WHEN THIS HAPPENS.

 There are no short cuts and it's never to late to make your dreams come true
Finally I often hear people say I only write or talk about shore kids or NBS kids, there is some truth to this. But I also believe if a young man or lady is dedicated and talented this is no better place to prove themselves to me… than at NBS. If you are a player who has improved or wants to improve or believes they are not getting respect; here is a chance to change some of that perception. I often say NBS puts tremendous pressure on everyone to preform but the reward far out weighs the risk. I hope to see everyone this Monday…talk is cheap…GETTING IN THE GYM AND PREFORMING IS NOT.
*NBS WILL ALLOW PLAYERS FROM CHICAGO TO JOIN US WEDNESDAY, IF THEY CHOOSE TO DO SO…
*COLLEGES WE WILL HAVE A PAGE UP WITH DAILY UPDATES FROM CAMP EACH DAY DURING THE DEAD PERIOD…
MY RANT-
I really don't understand how anyone can take days off during the July recruiting period. This is a insanely bad decision for any kid without a college chosen or a offer, who dreams of playing in college. Weather you like it or not, the bottom line is everyone must play every chance they get in July. You are either playing during the live period or training when it goes dark. There is no other choice..it's just a fact and nobody likes it…but it's the way it is and unless the NCAA changes, you be wise to simply get on board.  The recruiting period is so short, that it's in EVERYONE'S BEST interest NOT to miss days.
I also can't understand how an AAU coach can be upset because a player decides to guest with another team… when their team is not playing. The recruiting period is 100% about exposure first and anything a kid can do to get more EXPOSURE, NAME RECOGNITION  and BUZZ…THEY SHOULD DO IT… . Here is the best advice you will ever get..it you don't have a offer…you MUST continue to play and promote yourself…don't listen to people telling you how interested colleges are in you…BE RECRUITED AND THAT DOES NOT MEAN TAKING VISITS TO SCHOOLS…THAT MEANS GETTING OFFERS….know the difference!
If you are talking negative about anyone on Twitter let me say this…your are dumb and I can promise you it will come back to bite you in the backside. I have seem some scary tweets regarding players and team performances. I have blocked many of parents and people who tweet such negativity…...I URGE YOU TO DO THE SAME. There is no place for such behavior…IF YOU TAKE PLEASURE IN SOMEONES FAILURES OR LACK OF SUCCESS… YOU ARE NOT ABOUT KIDS!