The Big Ten showed up in a big way last year. Even while perennial powerhouse Michigan State struggled, the Big 10 was one of the most solid conferences through and through. This year should be more of the same as we preview some of the best teams and some of the best players you should watch this season.
Talented Teams
Michigan State
The Spartans had an uncharacteristically average season last year, finishing 10-8 in conference play, placing them directly in the middle of the pack at 7th place. Much of MSU's struggles can be chalked up to inexperience. The Spartans were loaded with underclassmen last year and even a coach like Tom Izzo cannot be expected to do much with such a green roster. However, since Izzo is one of the best to ever do it, one year of growth for his young squad will be all they need. Look for the Spartans to be back on top of the Big 10 this year.
Minnesota
While a first round exit in the NCAA tournament was not what Minnesota was hoping for, the Golden Gophers will return a bunch of key players that carried them to the postseason. Minnesota is returning 4 of their 5 starters. Nate Mason, last year's leading scorer and floor general, will return for his senior season Look for the Golden Gophers to be one of the most complete teams in the country, as they will exhibit strong guard play paired with 2 veteran big men.
Purdue
The Boilermakers may have lost Caleb Swanigan to the NBA Draft, but almost everyone else from last year is back. Like last year, Purdue's success will largely come from their dominant inside presence. Issac Hass' 7-2 frame will be more than enough for Purdue to continue their recent trend of winning by dominating the paint and boards on both ends of the floor.
Teams on the Downswing
Maryland
The Terrapins had a very underwhelming season last year. Expectations were high and they did not quite meet them. They managed to finish 3rd in the Big 10 but did not necessarily impress en route to doing so. They also got bounced in the first round of the Big Dance by Xavier. Justin Jackson will return, but I doubt this will be enough to cover up for the loss of Melo Trimble, who was the face or Maryland basketball for the past couple of years. Besides Jackson, the only player returning who averages double-digit points per game is Anthony Cowan. So unless some like Kevin Huerter or Jared Nickens can help carry the load, expect a very pedestrian showing from Maryland this year.
Wisconsin
The Badgers are coming off of an incredibly hot ending to the season, in which they went all the way to the Big 10 Championship and kept the momentum going, knocking out the #1 overall seed Villanova. However, like Maryland, the Badgers are also losing two key players in Nigel Hayes and Bronson Koenig. Ethan Happ is the only returning starter from last year's squad, as Zak Showalter and Vitto Brown are also gone. With so many question marks and such a high level of competition, I wouldn't count on the Badgers to be much of a force this year.
Ohio State
The departure of Thad Matta signals a culture shock for the Buckeyes. After a couple of mediocre seasons, change at the top was needed and now Chris Holtmann is leading the charge with 10 toes in. Ohio State returns leading scorer Jae-Sean Tate, but there is a major drop off after that. It could be a tough year in Columbus, but hey, it's always darkest before the dawn right?
Big 10 Player of the Year Candidates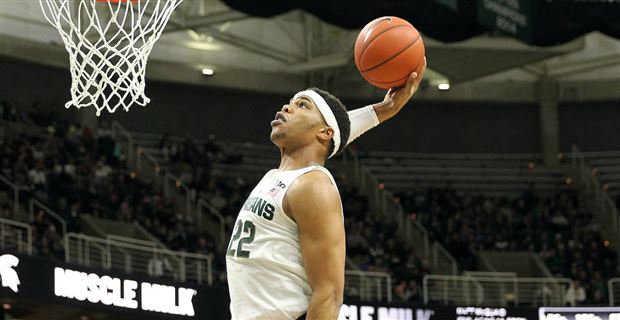 Miles Bridges
You can't talk about talent in the Big 10 without talking about Miles Bridges. Many are shocked to him return to school after averaging 17 points and 8 rebounds after his freshman year at Michigan State. Bridges is the ideal wing player, as he shoots well inside and beyond the arc. He shot an incredible 55% from inside the arc last year thanks to his pure stroke and magnificent finishing abilities. Pair that with a 39% percentage from deep and add in a year of development under Tom Izzo, the results could be insane. Not only will Bridges be one of the best players in the conference, he will be one of the best players in the nation.
Nate Mason
The senior floor general is coming off a solid 2016-2017 campaign where he averaged 15 points and 5 assists per game. Mason is crafty with the ball and has above average awareness and vision, as he turned the ball over under 2 times per game as well. Mason will also have a strong supporting cast around him, including Amir Coffey, who many think will have a breakout year. Mason is an experienced and proven leader surrounded by a familiar, and talented, team so there is no reason he cannot improve upon his stellar performance from last year.
Moe Wagner
The stretch 4 should have a huge year for the Wolverines, especially with the departure of Derrick Walton. Wagner will be the go-to man for Michigan this year so expect his production to sky-rocket. Wagner perfectly fits the trend we are seeing from contemporary European big men. He is tall, long and can score from inside and out. Many believe that Wagner made the right decision in leaving the NBA Draft, as he will now have another year to prove his worth. He averaged 12 points and 4 rebounds last year, but look for him to pump those numbers up and perform similar to another European of recent memory, Lauri Markkanen.